Zbigniew Religa after a 23 hour heart transplant, watching his patient's vital signs. Image via National Geographic.
在波兰,心脏是一种"神圣遗物",心脏移植术属于"伦理模糊范畴"。Religa想在国内开心脏移植术的先河困难重重。
Cutting a beating heart out of… A body. A human being.It's ethically vague.
I know that, in our country, the heart is a relic. But we both know it's a muscle.
We could give life to many people. Or false hope.
组建诊所过程中,资金和人员的空缺。
手术遭受媒体的质疑
Will Dr. Religa solve the problem? And more importantly, should he try again?
手术失败后来自官方波兹南卫生部的谴责
"Religa, you're not God. " "Quit killing people, ambition has eaten your conscience. " - by: Poznan Health Dept.
Professor Jan.Moll(波兰开展心脏移植手术的先驱)在弥留之际对Religa的开导
what's the biggest problem?
Qualifying patients for surgery? - No.
Cyclosporine dosage? - No.
The time span? - Those are not real problems.
The mother's eyes after a failed attempt to save her child?
It's about humility. Failure and success can be equally hard for a doctor. One needs a large dose of humility.
---
The first transplant, Zabrze. October 1985 Time of death : 8:02 pm, 6th day after the transplant.
The second transplant, Zabrze, November 1985 30 days after the surgery, the second heart recipient died.
The 3rd transplant, April 1986. Time of death: 5:50 pm. Direct cause: asystole. The transplanted heart infarcted, probably right before the transplant.
The fourth transplant, Zabrze, May 1986 The patient of the 4th transplant lived 7 years with the new heart
Until today more than 1000 heart transplanters have been performed in Zabrze.
Prof. Religa died on March 8th 2009
Religa多次手术尝试,每次遇到手术失败,即使不是自己的过错,依旧会喝的烂醉如泥。失败的自责,各方的谴责质疑,都成为了执刀时的阻碍。直至Religa从Moll教授的开导中醒悟,向已故病人Ewka的母亲道歉,得到了她的谅解"It was Gods plan." 最终,第四次心脏移植获得了巨大突破,成功为病人延续了7年生命。
Joke "The guy is heartless."
The fourth transplant, Zabrze, May 1986
D: How are you feeling, director?
P: I'm worried about one thing.
D: What is it?
P: That I'll be heartless again.
D: Just for 15 minutes.
P: I hope nothing stupid comes to my mind at that time.
D: You'll tell us tomorrow.
吐槽:背景音乐无限单曲循环,hhh…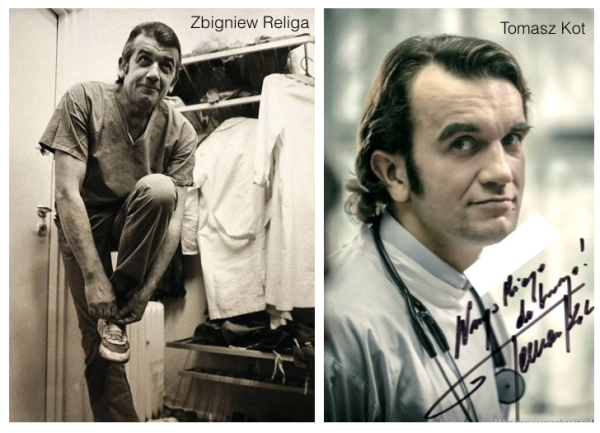 主角Tomasz Kot和Zbigniew Religa神似,( ̄﹁ ̄)